Danconia Media Blog
At Danconia Media, we spend a lot of time researching marketing and web design trends so we can always stay current. Most of what we encounter is written for industry professionals, not regular businesspeople. This blog is meant to help business owners and managers seeking marketing and design information free of jargon. If you'd like to recommend topics for us to cover, please shoot us an email.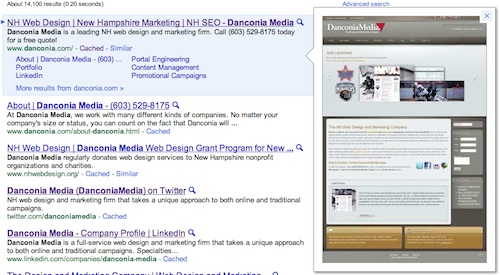 Yesterday, Google rolled out a new feature that allows users to preview web pages without clicking on the links. It's one of several changes the world's most popular search engine has unveiled in recent months that is favorable to websites that provide valuable content. Instant previews make having a well-designed website more vital than ever: If users don't like the way your preview looks, they're likely to not click through to your site.
When visitors type queries, they're now given the option to preview the results by clicking on or hovering over a magnifying glass icon. The previews appear to be the latest cached version of the web pages. So, if you've just modified a web page, it could take days or more for Google to display the altered version as a preview. The frequency that your site is indexed depends on how important Google deems it; the more quality links you have pointing to it, the better off you are.