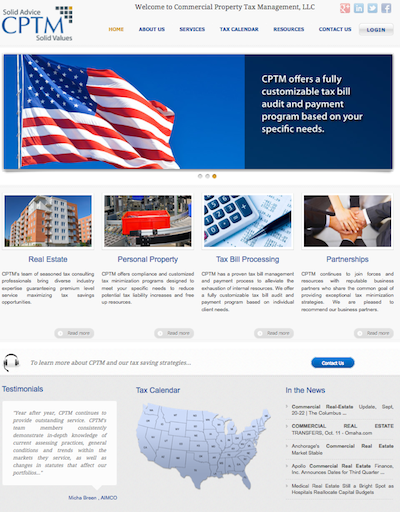 MANCHESTER, N.H., Oct. 16, 2012 – Commercial Property Tax Management, LLC (CPTM) has launched a new website engineered by leading New England web design and marketing firm Danconia Media.
The site – located at www.cptax.com – features information about CPTM's many services, including property tax valuations, compliance assistance, audits, appeals and tax bill processing. It also has a tax calendar, news section and helpful resources. Visitors can easily contact CPTM from any page with an easy-to-use form.
Danconia Media's web team designed the site using a highly robust, yet user-friendly, content management system (CMS). The CMS empowers CPTM's staffers to maintain the site in-house rather than relying on a third-party agency for updates.
Since the CMS is open-source, it is free to use and very customizable. As part of the web design package, CPTM will receive CMS training.
Founded in 2000, CPTM works with a network of professionals who are recognized nationwide as tax experts. CPTM serves a wide variety of industries, including industrial, manufacturing, retail, hospitality and health care. CPTM's headquarters is at 55 South Commercial Street in Manchester.
About Danconia Media
Danconia Media is a full-service web design and marketing firm that takes a unique approach to both online and traditional campaigns. Specialties include web development, search engine optimization (SEO), search engine marketing (SEM), Internet marketing, social media marketing, online reputation management, graphic design, logo design, corporate business card design, trade show display design, email marketing and copywriting. For more information, visit www.danconia.com.
###